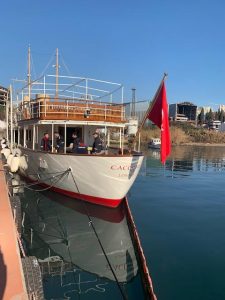 This classic 36m yacht has a fascinating history that spans almost nine decades and includes strong ties to the glamourous stars of Hollywood as well as service during WW II before arriving at our facilities to undertake a major restoration.
Originally built as Cacouna, she was designed by Charles E. Nicholson and launched from the Camper & Nicholsons Gosport yard in March 1932. Having served in the North west of the UK as an escort vessel during World War II, she was sold shortly afterwards and relocated to Cannes in the South of France. In 1959 she made international headlines when she was chartered for Elizabeth Taylor and Eddie Fisher's honeymoon. More recently she was based in southern Turkey before the current owner acquired her with a vision to bring her back to original condition.
After careful consideration, and with an extensive scope of works defined, the yard got started on what has been a 2+ year complete restoration project. Every detail of the boat has been examined and either restored or faithfully replaced to original designs, even the cambered decks have been kept.
"The arched decks and curved shape of the hull mean there are very few straight lines which has made it an exciting test for the interior outfitting team "comments Umut Ozdemir, Project Manager at Dunya yachts. "The boat has been completed to a very high spec, more associated with a vessel of 60+m.. Part of the challenge for the shipyard was simply accommodating it all… We are very proud of the result."
Redelivered to her owner in mid January, this beautifully elegant classic yacht looks better than ever and is ready to cruise the Mediterranean for another 90 years to come.
For further details of our recent projects please see here and to discuss your next refit, please contact Jeremy Roche on +44 7702 597157 or email jroche@dunyayachts.com